d el ed full form
The acronym d el ed Full-Form refers to a "Diploma in Elementary Education." In India, a certificate program trains those who want to work as elementary school teachers.
The curriculum aims to provide instructors with the information, abilities, and attitudes necessary to successfully instruct children in grades 1 through 8.
It covers various topics, including pedagogy, educational planning, instructional methodologies, and child psychology.
What is the Diploma in Elementary Education (D.El.Ed)?
Another name for it is D.El.Ed, or Diploma Course in Elementary Education. It takes two years of full-time study to prepare instructors for the elementary level, and both classroom instruction and distance learning are options.
The course is divided into four semesters, each of which prepares students to work in primary or upper primary schools in different states across the country.
The D.El.The Ed program is designed to include an internship and hands-on training in addition to classroom instruction. It also discusses educational practices, the concept of child development, and the teacher's role in shaping students.
Types Of d el ed
There are two types of d el edprograms:
In-service d el ed.: This type of program is for individuals who are already working as teachers and wish to improve their skills and knowledge. It is typically a part-time program that can be completed while working as a teacher.
Pre-service d el ed.: This type of program is for individuals who are not currently working as teachers but wish to become one. It is a full-time program that provides the necessary training and education to become an elementary school teacher.
Both types of d el ed programs cover the same content and are designed to prepare individuals to become effective elementary school teachers.
Benefits of D.El.Ed.
There are several advantages to earning a d el ed degree:
Improved job prospects: A d el ed degree can help individuals qualify for teaching positions in elementary schools in India.
Better pay: Teachers with a d el ed may earn more than those without one.
Improved teaching skills: The program covers a wide range of subjects and provides training in pedagogy, instructional strategies, and other areas to help teachers become more effective in the classroom.
Professional development: Earning a d el ed degree can provide opportunities for professional development and advancement within the education field.
Personal fulfillment: Teaching can be a rewarding and fulfilling career, and earning a d el ed degree can help individuals positively impact their students' lives.
D.El.Ed. Qualifications
Enrollment in D.El.Ed programs at various colleges have different requirements. Few colleges admit students based on their 10+2 scores, while other colleges hold their own entrance tests. Candidates who desire to pursue a D.El.Ed. Must meet the following requirements.
Candidates must have completed their 10+2 through an accredited board.
The overall grade must be at least 50% overall or it's equivalent at the 10+2 level.
The age limit may vary depending on the state board. The minimum age requirement is 18, while the maximum age restriction is 35.
Candidates must be skilled in communication, innovative problem-solving, patience, and teaching ability.
Note: Students who have successfully completed their certification program in the science stream must have an overall grade point average of 60% or higher.
Admissions to D.El.Ed.
The D.El.Ed. the admissions process begins with an entrance exam and is followed by an interview. If applicants pass the entrance test.
Each year, the state boards administer entrance exams to candidates seeking admission to the Diploma in Elementary Education program.
Entrance to the D.El. The Ed program is determined by the results of the entrance exam and the applicants' interview performance. The final admission will be granted based on the results of the first four phases.
Phase 1: Prior to submitting an application for admission in the state of their choice, candidates must first ascertain their eligibility.
Phase 2: Students receive their invitation cards to sit for the entrance exam after applying or completing the application form.
Phase 3: Take and pass the entrance exam. The admission exam results will be used to select candidates.
Phase 4: Candidates will be contacted for an interview and counseling session in addition to their entrance exam results.
Phase 5: D.El.Ed. Admission is granted based on performance on the entrance exam and throughout the interview and counseling process.
Top D.El.Ed Exams
When it comes to D.El.Ed., the National Institute of Open Schooling (NIOS) has a solid reputation. Furthermore, several colleges conduct their own entrance exams to admit students to the program.
Candidates will be shortlisted based on the results of any entrance exams and personal interviews. Teachers who want to teach higher-level classes and further their education must pass the Teacher Eligibility Tests. The following sections provide information on some common tests.
National Council for Teacher Education (NCTE) exam: This exam is required for admission to a d el ed program. It assesses candidates' knowledge of the teaching profession, communication ability, and understanding of educational concepts and theories.
2.State Teacher Eligibility Test (STET): This exam is conducted by state education boards in India and is required for individuals who wish to teach in government schools.
3.Teacher Eligibility Test (TET): This exam is conducted by the Central Board of Secondary Education (CBSE) and is required for individuals who wish to teach in central government schools.
4.d el ed program exams: The d el ed program includes coursework and exams that must be successfully completed in order to earn the diploma.
5.State-specific exams: Some states in India may have additional exams that must be passed in order to become certified teachers.
Top universities that offer the D.El.Ed course
The Diploma in Elementary Education (D.El.Ed) is a teacher training program that prepares candidates for teaching at the primary level (classes I to V) in schools.
In India, D.El.Ed is offered by many colleges and institutes affiliated with state and central education boards. Some of the top colleges that offer D.El.Ed course includes:
Institutions recognised by the National Council for Teacher Education (NCTE)
2. National Institute of Open Schooling (NIOS)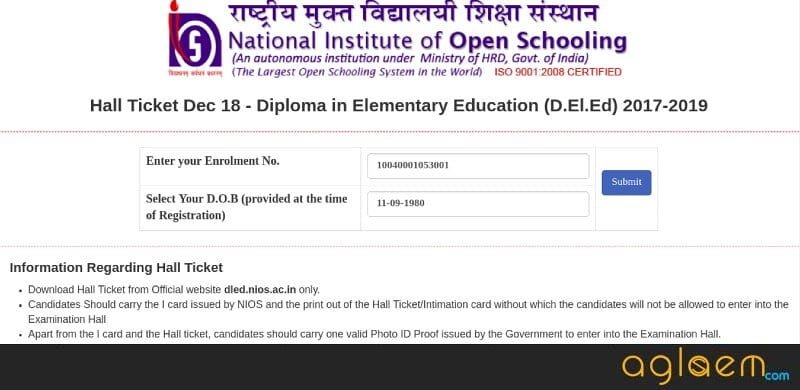 3.Indira Gandhi National Open University (IGNOU)
4.Jamia Millia Islamia University, Delhi
5.Annamalai University, Tamil Nadu
6.University of Calicut, Kerala
7.University of Hyderabad, Telangana
8.University of Mumbai, Maharashtra
9.Aligarh Muslim University, Uttar Pradesh
10.University of Delhi, Delhi
It is important to note that the admission to D.El.Ed courses may vary depending on the institution and the state in which it is located. You should contact the institutions directly for more information about their specific admission requirements and procedures.
Also, read BSF Head Constable Ministerial Exam Syllabus