What is Overdrive in Automobile Engineering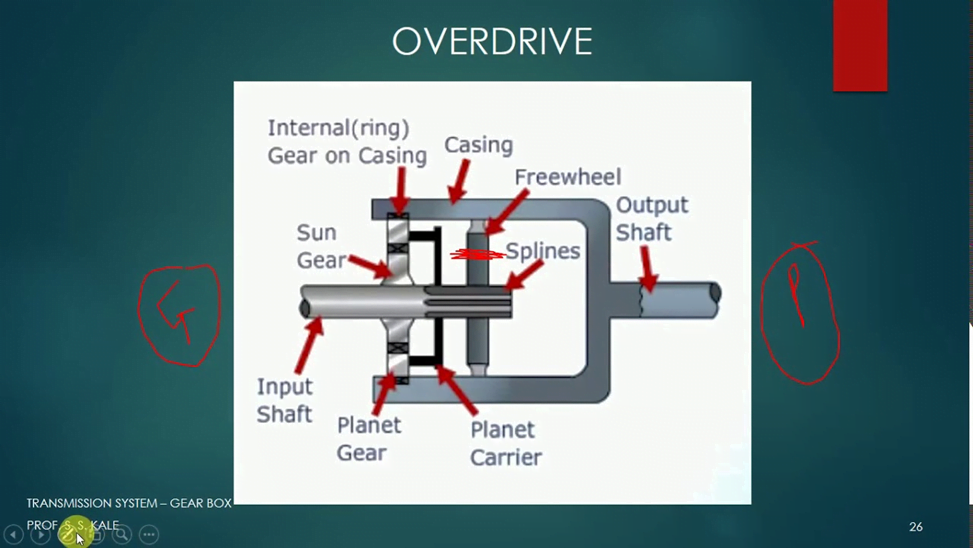 Introduction to Overdrive
An Overdrive is a component of a transmission system that is connected to the end of the gearbox to provide maximum driving power with minimum engine input which in turn makes for a smoother and more fuel-efficient ride.
It is a planetary and planetary gear arrangement arranged such that when overdrive is enabled, it provides high rotation per minute to the output shaft with low engine rotation per minute which in turn provides smooth, quiet fuel and high economy to the vehicle.
In some vehicles such as KTM Duke 390, top or sixth gear is said to be overdrive gear.
Need for an overdrive
When we go on a long drive we shift our transmission to the highest gear which is said to be the direct drive which means that the final output shaft rotates at the engine speed which in turn somehow increases the load on the shaft. of the motor, then an overdrive can be used with the gearbox which can reduce the load of the motor and provide a high speed (higher than the motor revolutions) during a long time.
In high-end cars like Audi A6, Mercedes E-Class, luxury and smooth driving experience are the priority that cannot be compromised, so these automatic transmission cars are equipped with overdrive which makes them more luxurious.
As the engine load is reduced with the use of the overdrive which in turn reduces the wear of the engine and gearbox, so we can say that the use of the overdrive also reduces the maintenance of the automotive vehicle.
When it comes to performance, overdrive is said to deliver 30% more rpm than engine rpm.
Operation of an overdrive
Overdrive in cars can be enabled or disabled using any of the methods of electric, magnetic, pneumatic actuation by means of a button or knob, in the first case it is sufficient to consider both the enabled and disabled cases to understand how they work.
Overdrive Disabled – When overdrive is disabled, the input shaft passing through the sun gear rotates the sun gear which in turn rotates the constantly meshed planetary gears and then these planetary gears rotate the ring and you get the direct drive (the same as the number of revolutions of the input shaft).
Overdrive Enabled- When the driver has enabled the overdrive, the sun gear becomes fixed which means that the ring is now rotated by the planetary gears or in other words the input from the input shaft is now transferred through the " planetary gear to the ring due to which overdrive is achieved, which means that the output shaft now rotates with the highest number of revolutions compared to the input shaft due to the higher reduction ratio of the gears planetary and ring.