Tetravalency Introduction:
What is the valency of carbon?
The valence of four carbons and one carbon atom can form four covalent bonds.
The branch of organic chemistry deals with carbon compounds.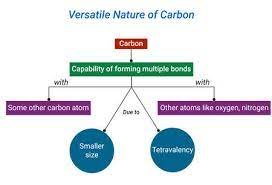 Carbon Tetravalence
Due to specific material properties, carbon has established its value among other materials. The factors that make carbon valuable are:
Catenation and tetravalence.
The size of a carbon atom:
Although there is no precise definition, those compounds in solid, liquid, or gaseous states with carbon atoms covalently bonded in their molecules are known as organic compounds. Let's see how the tetravalent nature of carbon affects carbon compounds.
Carbon Hybridization:
Hybridization is the concept of combining atomic orbitals into new hybrid orbitals suitable for representing their bonding
properties. Hybridized orbitals are useful for explaining the structure of molecular orbitals, as well as being an important part of valence bond theory.
The name hybrid applies to atomic orbitals that contribute to hybridization. For example, in methane with the chemical formula CH4, the set of sp3 orbitals grows by combining one 's orbital and three p orbitals on the carbon atom. These orbitals point to the four hydrogen atoms placed at the vertices of a regular tetrahedron.
Ethene (C2H4) has a double bond between carbon atoms. Here, carbon is combined to form sp2. In Sp2 hybridization, the 2s orbital combines with two of the three existing 2p orbitals, creating a total of 3sp2 orbitals with one p orbital remaining. In ethane, two carbon atoms form a sigma bond covering two sp2 orbitals, while a carbon atom forms two covalent bonds with hydrogen crossing both s-sp2 orbitals at angles of 120°. The pi bond between carbon atoms develops with 2p-2p interactions. The hydrogen-carbon bonds are of equal length and strength, satisfying the experimental evidence.
Multiple bonds also exist between different atoms. When two oxygen atoms are placed on opposite sides of a carbon atom in CO2, one of the p orbitals of each oxygen forms a pi bond with either of the p orbitals of carbon. Here, sp hybridization forms two pairs of bonds.
Carbon combination:
sp2 hybridization:
The sp2 carbon is included in ethene because one π bond is required for the double bond between the carbons, and three σ bonds are formed for each carbon atom. carbon tetravalence propane.
Different properties of carbon:
Carbon has an atomic number of 6, which means that each carbon atom has six electrons. Two are in the innermost depleted state, while four electrons are found in the outermost atomic orbital.
This means that carbon has four valence electrons (external electrons found when forming bonds with other atoms). Because of this arrangement within the atomic cycle, carbon is tetravalent.
The four valence electrons of carbon can be shared with other atoms (with shared electrons), thus creating what are called covalent bonds (shared electron bonds). The carbon atom can also bond with other carbon atoms to form covalent bonds that form long chains of carbon atoms linked together like links in a chain.
Silicon (Si), an element in group 14 of the periodic table, has four valence electrons and can form large molecules called silicones. But because of the high atomic number (compared to carbon), its atoms are too big to fit together to form different molecules, like carbon atoms.
What makes carbon unique is its ability to form strong covalent bonds by nature. The small size of the carbon atom makes carbon compounds very stable. Thus, carbon, as a substance that has the ability to form various stable compounds, can freely exist in nature.
Example: saturated hydrocarbons such as propane and ethane.
Catenation:
The joining of atoms of the same substance to form a long chain is called CATENATION.
Carbon because of its tetravalent form has a unique property of forming bonds with other carbon atoms forming long chains. Because of this catenation property, carbon can form a linear chain.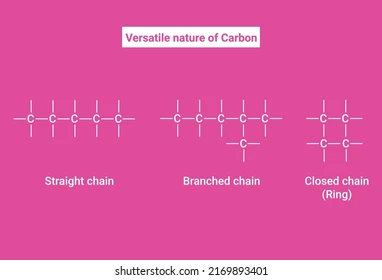 branch chain.
cyclic ring.
Matter's incredible composability comes from the ability of its atoms to join together not only in straight chains but also in complex branches, like the branches of a tree. They can join together in a "head-tail" structure to form rings of carbon atoms. The substance has no limit to the number or complexity of branches or the number of rings that can be attached to it, making it.
Also, read operating system functions