Introduction
In today's world, where comfort and convenience are highly valued, the term HVAC is frequently encountered. HVAC is an acronym for Heating, Ventilation, and Air Conditioning, a crucial system present in residential, commercial, and industrial buildings.
Meaning of HVAC
HVAC stands for Heating, Ventilation, and Air Conditioning. It refers to the technology and systems designed to control and regulate indoor temperature, humidity, air quality, and ventilation. HVAC systems ensure the provision of a comfortable, safe, and healthy indoor environment for occupants.
Components of HVAC
1. Heating:
The heating component of an HVAC system involves the process of increasing the indoor temperature during cold weather. It is achieved through various means, such as furnaces, boilers, heat pumps, or electric heaters. These systems work by generating and distributing heat to raise the indoor temperature to a comfortable level.
2. Ventilation:
Ventilation plays a vital role in maintaining indoor air quality by replenishing stale air with fresh outdoor air. It involves the exchange of air to control moisture, remove odors, and circulate the air to prevent the buildup of pollutants. HVAC systems incorporate ventilation systems, including fans, ducts, and vents, to ensure proper airflow throughout the building.
3. Air Conditioning:
Air conditioning is a crucial aspect of HVAC systems, especially in warmer climates. It involves the process of cooling indoor spaces during hot weather, regulating both temperature and humidity levels. Air conditioning systems utilize refrigeration cycles to extract heat from indoor air and release it outside, ensuring a comfortable and cool environment.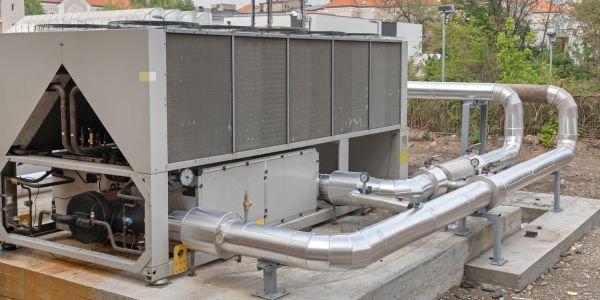 The Basic Parts of an HVAC System
1. Thermostat
The thermostat serves as the control center of the HVAC system. It allows users to set and adjust the desired temperature in a space. Modern thermostats often feature programmable capabilities, enabling users to schedule temperature changes throughout the day. The thermostat communicates with other system components to maintain the desired temperature.
2. Furnace
The furnace is a key component of the heating system in an HVAC setup. It generates heat by burning fuel (such as natural gas, propane, or oil) or through electric resistance. The heated air is then distributed throughout the building via ductwork and vents. Furnaces come in various types, including gas, electric, and oil, depending on factors such as availability, efficiency, and cost.
3. Heat Exchanger
The heat exchanger is found in gas or oil furnaces. It transfers heat from the combustion process to the air that will be distributed throughout the building. The heat exchanger ensures that the combustion gases remain separate from the indoor air, maintaining safety and preventing the release of harmful byproducts.
4. Evaporator Coil
The evaporator coil is part of the air conditioning system in an HVAC setup. It is located within the indoor unit and plays a crucial role in the cooling process. The coil contains a refrigerant that absorbs heat from the indoor air, causing it to cool down. The cooled air is then circulated back into the building, while the heat absorbed by the refrigerant is released outside through the condenser unit.
5. Condenser Unit
The condenser unit is an outdoor component of the air conditioning system. It is responsible for releasing the heat extracted from the indoor air by the evaporator coil. The condenser unit uses a fan to blow air over the condenser coil, allowing the refrigerant to release the absorbed heat. This process cools the refrigerant, preparing it for the next cooling cycle.
6. Compressor
The compressor is a vital part of the air conditioning system, typically located in the outdoor unit. It pressurizes and circulates the refrigerant throughout the HVAC system. By increasing the pressure and temperature of the refrigerant, the compressor enables it to absorb heat from the indoor air and release it outside.
7. Air Filters
Air filters are essential components of an HVAC system that improve indoor air quality. They capture and remove airborne particles like dust, pollen, pet dander, and mold spores, preventing them from circulating in the building. Clean air filters promote efficient system operation and contribute to a healthier indoor environment.
Importance of HVAC
1. Comfort and Health:
HVAC systems are essential for creating comfortable indoor environments in homes, offices, schools, hospitals, and other buildings. These systems enable precise temperature control, ensuring that occupants can enjoy optimal comfort year-round. Moreover, proper ventilation and air purification through HVAC systems help maintain good indoor air quality, reducing the risk of respiratory problems and allergies.
2. Energy Efficiency:
With rising energy costs and growing environmental concerns, energy efficiency has become a critical factor in HVAC systems. Modern HVAC technologies incorporate energy-efficient components and advanced controls to optimize energy usage. By ensuring efficient heating, cooling, and ventilation, HVAC systems can significantly reduce energy consumption and lower utility bills.
3. Sustainability:
Sustainable HVAC practices focus on reducing the environmental impact of heating and cooling systems. Energy-efficient HVAC systems contribute to lower greenhouse gas emissions and help combat climate change. Furthermore, sustainable HVAC practices include using eco-friendly refrigerants, implementing renewable energy sources, and designing buildings with passive cooling and heating techniques.
4. Productivity and Performance:
In commercial and industrial settings, HVAC systems play a crucial role in maintaining an optimal working environment. Proper temperature control and indoor air quality have a direct impact on employee productivity, comfort, and overall performance. Well-designed HVAC systems ensure that occupants can work efficiently without distractions caused by extreme temperatures or poor air quality.
The application areas of HVAC systems:
1. Residential buildings (houses, apartments, condominiums)
2. Commercial buildings (office spaces, shopping malls, hotels, restaurants, educational institutions)
3. Industrial facilities (manufacturing plants, warehouses, data centers)
4. Healthcare facilities (hospitals, clinics, laboratories)
5. Transportation (automobiles, buses, trains, airplanes)
6. Data centers
7. Educational institutions (schools, universities)
8. Government buildings
9. Hospitality industry (hotels, resorts)
10. Retail stores
11. Restaurants and food service establishments
12. Sports and entertainment venues
13. Warehouses and storage facilities
14. Laboratories and research facilities
15. Museums and art galleries
16. Religious institutions (churches, mosques, temples)
17. Public transportation systems (train stations, bus terminals)
18. Agricultural facilities (greenhouses, livestock farms)
19. Energy and utility companies
20. Pharmaceutical and chemical manufacturing plants
These are just a few examples of the diverse application areas where HVAC systems are utilized. The specific requirements and configurations of HVAC systems may vary depending on the particular needs of each industry and environment.
Also, read Google flights