Google Flights
In today's digital era, planning, and booking travel has become more convenient than ever. Google Flights has emerged as a reliable and feature-packed tool for travelers worldwide. 
What is Google Flights?
Google Flights is a powerful online flight search engine developed by Google. It allows users to search and compare flight options from various airlines worldwide, providing an easy way to find the best fares and plan their itineraries. With its intuitive interface and extensive search capabilities, Google Flights has gained popularity among both casual travelers and frequent flyers.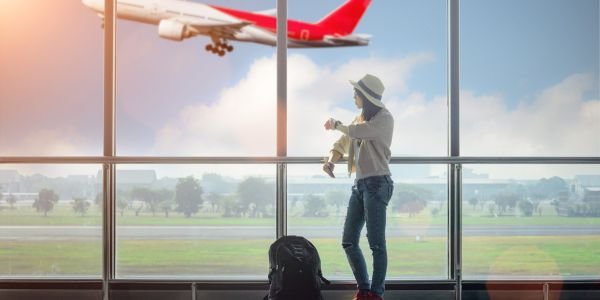 Key Features of Google Flights:
a. Flight Search:
Google Flights enables users to search for flights based on their preferred destinations, travel dates, and other criteria. It presents results in a user-friendly format, making it easy to compare options.
b. Price Comparison:
One of the standout features of Google Flights is its ability to compare prices across multiple airlines and travel agencies. It provides a comprehensive overview of available fares, helping users make informed decisions and find the best deals.
c. Flexible Date and Destination Searches:
Google Flights offers flexibility in searching for flights. Users can explore different travel dates or view flights to multiple destinations simultaneously. This feature is particularly helpful for travelers with flexible itineraries or those looking for the best time to travel.
d. Price Tracking and Alerts:
Google Flights allows users to track flight prices for specific routes and receive email alerts when prices change. This feature is beneficial for those waiting for fare drops or planning their trips in advance.
e. Explore Destinations:
If you're unsure about where to travel, Google Flights has an "Explore" feature that suggests destinations based on your preferences. It provides valuable insights into popular attractions, flight prices, and the best times to visit various locations.
f. Filter Options:
Google Flights offers an array of filters to refine your search results. Users can narrow down their options by selecting preferred airlines, specific layover durations, flight times, or even baggage options.
g. Insights and Tips:
Google Flights provides useful information and insights for travelers. It highlights trends in flight prices, suggests alternate airports, and even recommends the best time to book flights for maximum savings.
Benefits of Using Google Flights:
a. User-Friendly Interface:
Google Flights' simple and intuitive interface makes it easy for users to navigate and find the information they need. It eliminates unnecessary clutter, allowing for a seamless flight search experience.
b. Time and Cost Savings:
By comparing prices from multiple airlines and travel agencies, Google Flights saves users valuable time and effort. It presents the most cost-effective options, potentially leading to significant savings on airfare.
c. Comprehensive Information:
From flight durations and layover times to baggage fees and airline-specific policies, Google Flights provides comprehensive information to help users make well-informed travel decisions. This ensures a smoother and more enjoyable travel experience.
d. Personalized Recommendations:
Google Flights tailors recommendations based on your search history, preferences, and even current location. It offers personalized suggestions for flights and destinations, making it easier to plan your next adventure.
e. Integration with Google Services:
Google Flights seamlessly integrates with other Google services such as Google Search, Google Maps, and Google Trips. This integration allows users to access their travel information and itineraries in one place, creating a cohesive travel planning ecosystem.
Getting Started with Google Flights:
a. Accessing Google Flights:
To begin your flight search, open your web browser and visit the Google Flights website (www.google.com/flights). Alternatively, you can search for "Google Flights" directly in the Google search engine.
b. Understanding the Interface:
The Google Flights interface is clean and user-friendly. The search bar is where you enter your departure city, destination, travel dates, and the number of passengers. Take a moment to familiarize yourself with the various options and features available on the homepage.
Doing a Basic Flight Search:
a. Entering Your Travel Details:
Start by entering your departure city or airport, followed by your desired destination. Next, select your travel dates and specify the number of passengers. You can also choose whether you prefer a round-trip, one-way, or multi-city itinerary.
b. Exploring the Search Results:
Once you click the "Search" button, Google Flights will display a list of available flights based on your search criteria. The results page provides an overview of different airlines, prices, and travel times. You can use the filters on the left-hand side to narrow down your options.
c. Utilizing Filters and Sorting Options:
Google Flights offers various filters and sorting options to refine your search. You can filter by airlines, stops, departure/arrival times, price ranges, and more. Sorting options include "Best flights," "Price," "Duration," and "Departure time," allowing you to prioritize your preferences.
Finalize Your Booking:
a. Selecting Your Preferred Flight:
After narrowing down your options, click on the flight you want to book. Google Flights will provide detailed information about the airline, baggage allowance, layovers, and any additional fees. Take your time to review all the details before proceeding.
b. Booking through Google or Airlines:
Google Flights offers two options for booking flights. You can either book directly through Google by clicking on the "Book" button, which redirects you to a trusted travel agency or choose to book directly with the airline by clicking on the airline's website link.
c. Completing the Booking Process:
Follow the instructions provided by the chosen booking platform or airline to finalize your reservation. Make sure to enter accurate passenger details and review the terms and conditions before making the payment.
Also, read the Cosine rule