Introduction ( history) of solar panels:
Alexandre Edmond Becquerel is considered to be the father of solar panels, having discovered how electricity is made from sunlight in 1839. His research created a way to build solar plants that heated water to make steam for electric machines during the Industrial Revolution Becquerel's discovery showed that light shining on an electrode in a conductive solution produces electricity.
This is known as the photovoltaic effect, the same principle used in modern solar panels. A hundred years later, Russell Ohl used this knowledge to develop solar cells, which made the production of solar energy more efficient. Solar power panels rely on solar cells to function.
What is a 'Solar panel'?
Definition: A solar panel is a set of solar (or photovoltaic) cells, which can be used to generate electricity through the photovoltaic effect. These cells are arranged in a grid-like pattern on top of the solar panels.
Therefore, it can also be described as a set of photovoltaic modules, attached to a supporting structure. A photovoltaic (PV) module is an arranged and connected array of 6 × 10 solar cells.
When it comes to wear and tear, these panels are very tough. Solar panel wears out slowly. In a year, its efficiency only decreases by about one to two percent (sometimes even less).
Most solar panels are made of crystalline silicon solar cells.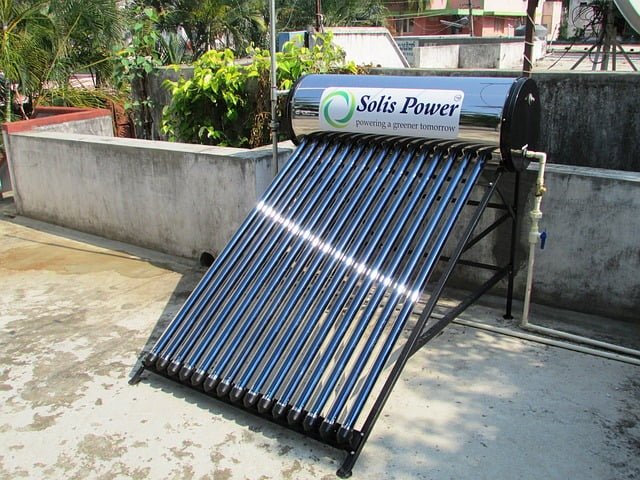 Installing solar panels in homes helps combat greenhouse gas emissions and thus helps reduce global warming. Solar panels do not cause any pollution and are clean. They also reduce our reliance on fossil fuels (which are in short supply) and traditional energy sources.
Nowadays, solar panels are used in large electronic devices such as calculators that work as long as there is sunlight.
However, the only major downside to solar panels is that they are very expensive. Also, the solar panel is installed outside as it needs sunlight to be used.
What are the main types of solar panels?
polycrystalline solar panels: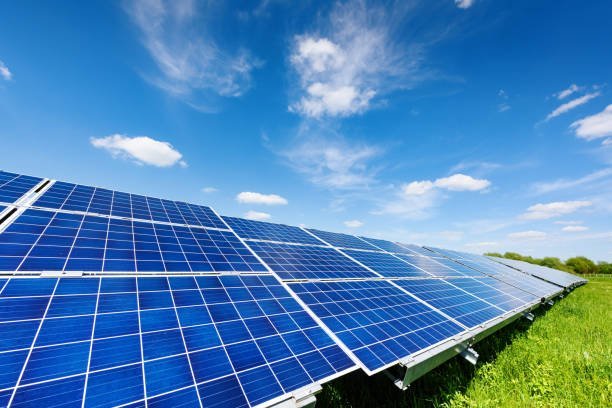 Polycrystalline solar panels use a silicon crystal made of many small grains arranged inside the solar cell. They, however, look perfectly rectangular with no rounded or square edges.
• Advantages:
One of the most affordable solar panels, polycrystalline silicon is easy to manufacture.
• Disadvantages:
If you want a higher door, you need to install more panels.
Excessive heat can alter its performance.
Monocrystalline solar panels: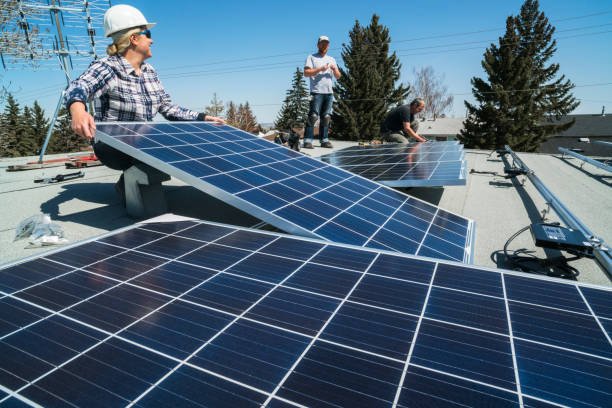 When it comes to monocrystalline technology, look for an outer diamond-like color that indicates high-purity silicon. Unlike polycrystalline, these panels use large crystal grains to create each silicon module. In this way, they produce more electricity than other types of solar energy.
• Advantages:
Monocrystalline panels have the highest dimensions, so less paper is needed.
• Disadvantages:
The most expensive type of purification is due to its difficulty in the manufacturing process.
Efficiency may be reduced at high temperatures.
Thin film solar panels: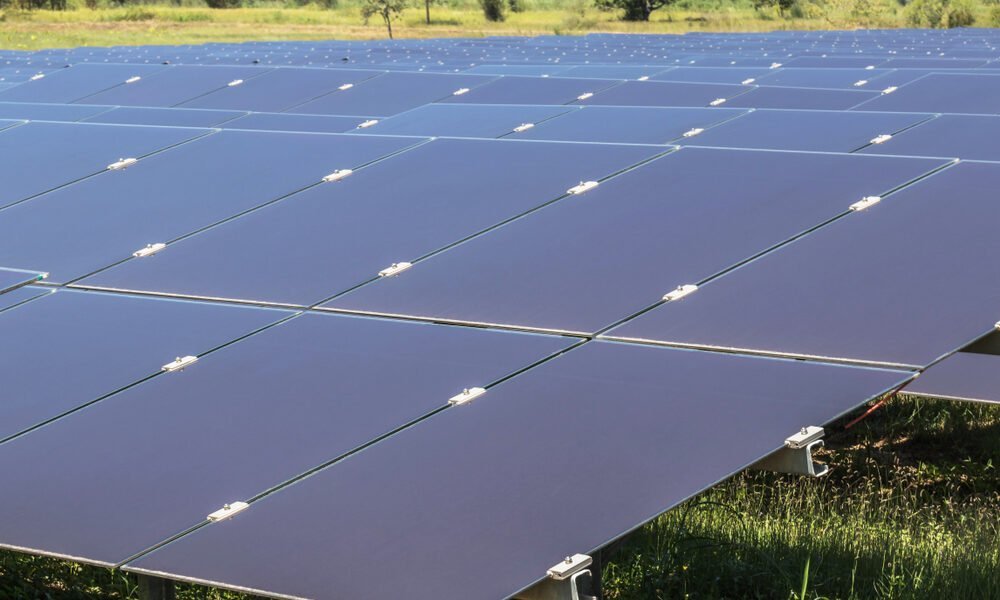 Finally, thin-film technology is not composed of highly purified silicon crystals, but continuous material. There are four types of thin-film solar photovoltaics (TFPV), defined by the photovoltaic materials used. The principle of TFPV, however, is the same as that of crystalline PV: the light hits the material and excites the electrons, which then 'flow' through a certain tolerance of the p-n junction, generating the electricity that is absorbed and used.
• Advantages:
More expensive than monocrystalline and polycrystalline panels Furthermore, performance is not affected by high temperatures, making it a good choice for hot climates.
• Disadvantages:
Less efficient than monocrystalline and polycrystalline panels, so you need more panels to achieve the same. Because of their nature, they tend to degrade faster than the other two types of solar energy.
In conclusion, whether you choose polycrystalline, monocrystalline, or thin-film solar panels, consult an expert first. Our professional team at Black Frog Solar will always be happy to provide you with personalized advice so that you can fully enjoy the benefits of your solar energy system
How does automatic dashboard cleaning systems works?
Leaves, bird droppings, and airborne particles (from dirt and pollen) pollute solar panel costs. Dirty panels mean energy loss – dirt and debris reduce the solar panel's ability to function at full capacity. The solar array is composed of several solar modules connected, and each solar module is composed of all the solar cells gathered in a frame. When sunlight hits the solar cell, it excites the electrons in the semiconductor material, this energy can be thought of as electricity. If the cells are not clean, less sunlight can be absorbed and less electricity is produced.
The energy loss can be related to the amount of dirt your solar panels accumulate. Energy loss can be as high as 25 percent, but some put the figure at up to 30 percent for consumers who never clean their systems.
Owners with minor solar systems may choose to use elbow grease as a method of cleaning their stoves. Solar panels, like windows, can be cleaned with warm soapy water to remove dirt or residue. When you wash them, you are washing the surface of the glass and the frame of the panel.
The sweat value has its downsides, however, manual cleaning of solar panels can be dangerous. First, you (or the person doing the cleaning) risk getting hurt. If you feel uncomfortable on your roof, consider your safety before climbing the ladder. Also, while soap and water won't damage the solar panels, you still risk damaging yourself (remember, you care what you're doing. Other things are left to the specialists.
Advantages of Solar Energy
Sustainability
The advantage of solar energy is that that is a sustainable alternative to fossil fuels. While fossil fuels have an expiration date that may be fast approaching, the sun is likely to be around for at least a few billion years.
Low Environmental Impact
Solar energy has a substantially reduced impact on the environment compared to fossil fuels. Its greenhouse gas emissions are inconsequential as the technology does not require any fuel combustion. Also, although concentrating solar thermal plants (CSP) are comparatively inefficient in their water usage depending on the type of penology being used, the right technology significantly increases efficiency while photovoltaic (PV) solar cells do not require any water when generating electricity.
Solar energy technology is becoming an increasingly cost-competitive alternative to fossil fuels, though it remains somewhat expensive in certain markets.
Energy Independence
Since the sun shines across the globe, it makes every country a potential energy producer, thus allowing for greater independence and security. Solar energy doesn't only promise to bring security and independence at the national level; solar panels can be installed on individual homes, providing power that does not depend on being connected to a larger electrical grid.
Disadvantages of Solar Energy
Intermittency
One of the biggest problems that solar energy technology poses is that energy is only generated while the sun is shining. That means night-time and overcast days can interrupt the supply. The shortage created by this interruption would not be a problem if there were low-cost ways of storing energy as extremely sunny periods can generate excess capacity.
As the global capacity for solar power continues to rise, nations like Japan and other global leaders in solar energy technology are focusing on developing adequate energy storage to deal with this issue.
Land Use
Another concern is that solar energy may take up a significant amount of land and cause land degradation or habitat loss for wildlife. While solar PV systems can be fixed to already existing structures, larger utility-scale PV systems may require up to 3.5 to 10 acres per megawatt and CSP facilities require anywhere from 4 to 16.5 acres per megawatt.34.
However, the impact can be reduced by placing facilities ties in low-quality areas or along existing transportation and transmission corridors.
Scarcity of Materials
Certain solar technologies require rare materials in their production. This, however, is primarily a problem for PV technology rather than CSP technology. Also, it is not so much a lack of known reserves as much as current production cannot meet future demand: Many of the rare materials are by-products of another process rather than the focus of targeted mining efforts.
Recycling PV material and advances in nanotechnology that increase solar-cell efficiency could both help boost supply, but perhaps finding material substitutes that exist in greater abundance could play a role.
An Environmental Downside
The one environmental downside to solar technology is that it contains many of the same hazardous materials as electronics. As solar becomes a more popular energy source, the problem of disposing of hazardous waste becomes an additional challenge.
However, assuming the challenge of proper disposal is met, the reduced greenhouse gas emissions that solar energy offers make it an attractive alternative to fossil fuels.