Aluminium is a versatile and lightweight metal with a wide range of industrial applications, from aerospace and automotive manufacturing to construction and consumer goods production. Welding aluminum is a critical aspect of many of these industries, as it allows for the creation of strong, durable, and lightweight structures.
The Unique Properties of Aluminium
Before delving into welding techniques, it's essential to understand the unique properties of aluminum that make it both desirable and challenging to weld:
1. High Thermal Conductivity:
Aluminum has excellent thermal conductivity, which means it quickly dissipates heat. This property makes it challenging to maintain the required welding temperature, as excessive heat can lead to distortion and burn-through.
2. Oxide Formation:
Aluminium readily forms an oxide layer on its surface when exposed to air. This oxide layer must be removed before welding, as it can impede the formation of a strong weld.
3. High Melting Point:
Aluminium has a relatively high melting point (approximately 660°C or 1220°F). Consequently, welding aluminium requires more heat compared to other metals like steel.
4. Low Density:
Aluminium is lightweight, which is one of its primary advantages. However, its low density can result in greater distortion during welding due to the metal's susceptibility to rapid heating and cooling.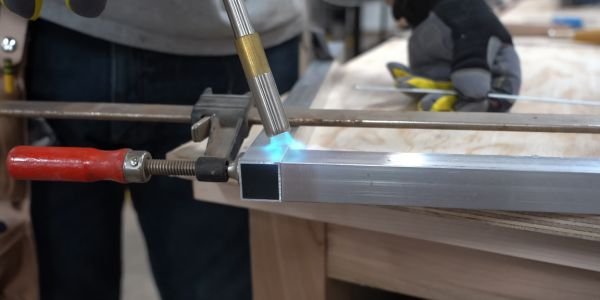 Welding Techniques for Aluminium
Several welding techniques are commonly used for joining aluminium, each with its own advantages and challenges:
1. Tungsten Inert Gas (TIG) Welding:
TIG welding is a popular choice for welding aluminium because it provides precise control over the heat input. A non-consumable tungsten electrode and an inert gas (typically argon) shield the weld area from contamination. TIG welding produces high-quality, clean welds suitable for critical applications, such as aerospace and automotive manufacturing.
2. Metal Inert Gas (MIG) Welding:
MIG welding, also known as Gas Metal Arc Welding (GMAW), is another widely used method for welding aluminium. It's more straightforward and faster than TIG welding but may produce slightly less aesthetically pleasing welds. MIG welding is commonly used in applications where appearance is less critical, such as structural components.
3. Friction Stir Welding (FSW):
FSW is a solid-state welding process that does not involve melting the aluminium. Instead, a rotating tool is used to stir the materials together, creating a strong bond. This technique is ideal for joining thin aluminium sheets, and it eliminates many of the issues associated with traditional weldings, such as distortion and porosity.
4. Resistance Spot Welding:
Resistance spot welding is suitable for joining aluminium sheets with thicknesses up to about 3 mm. It involves applying pressure and passing an electric current through the sheets to create localized heat, melting the metal and forming a weld. This method is commonly used in the automotive industry for joining aluminium body panels.
5. Laser Welding:
Laser welding is a precise and high-energy welding technique that is well-suited for aluminium. It offers excellent control over heat input and minimal distortion. Laser welding is commonly used in industries where precision and minimal heat-affected zones are critical.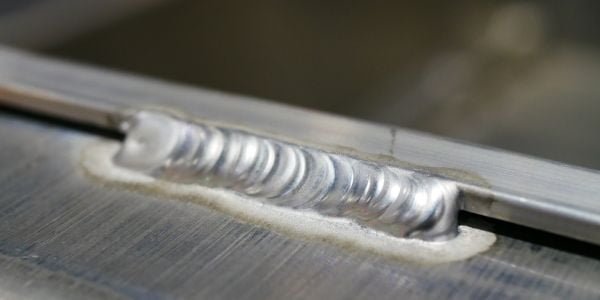 Challenges in Welding Aluminium
Welding aluminium presents several challenges, which, if not addressed properly, can lead to welding defects and compromised weld quality. Some common challenges include:
1. Proper Cleaning:
The oxide layer on aluminium must be thoroughly removed before welding to ensure a clean surface for joining. This typically involves mechanical or chemical cleaning methods.
2. Heat Management:
Controlling heat input is crucial to prevent distortion and burn-through. Skilled welders must strike a balance between providing enough heat to create a strong weld and avoiding excessive heat that can damage the material.
3. Filler Material Selection:
Choosing the right filler material is essential for achieving a strong and reliable weld. The filler material should match the composition of the base metal and provide good mechanical properties.
4. Gas Shielding:
In TIG and MIG welding, the use of an appropriate shielding gas is critical to prevent contamination and porosity in the weld. Argon is commonly used as a shielding gas for aluminium welding.
Applications of Welded Aluminium
Welded aluminium plays a crucial role in various industries due to its unique combination of strength, lightness, and corrosion resistance. Some notable applications include:
1. Aerospace:
Aluminium is widely used in aircraft manufacturing for its lightweight properties. Critical structural components are often joined through precision welding processes like TIG and laser welding.
2. Automotive:
The automotive industry relies on welded aluminium for lightweight body panels, chassis components, and heat exchangers. Welding is essential for creating strong and lightweight vehicles that improve fuel efficiency.
3. Construction:
Aluminium is used in the construction of lightweight and corrosion-resistant structures such as bridges, high-rise buildings, and stadium roofs. Welding ensures the integrity of these structures.
4. Marine:
Welded aluminium is commonly used in boat and shipbuilding due to its resistance to corrosion in marine environments. It is used for hulls, superstructures, and other critical components.
5. Electronics:
Aluminium is used in the production of electronic enclosures and heat sinks. Precise welding techniques are essential to maintain the structural integrity and thermal performance of these components.
Welding aluminum is a challenging but essential process in many industries due to the unique properties of this versatile metal. Proper techniques, equipment, and skilled welders are crucial for achieving high-quality welds that meet the demands of various applications, from aerospace to automotive manufacturing and beyond. With advancements in welding technology and materials science, the future of aluminum welding holds the promise of even stronger, lighter, and more efficient structures.
Also, read Tube Bender Machine