Diary of a Wimpy Kid:
"Diary of a Wimpy Kid" is a book series that has left an indelible mark on children's literature. Created by author and cartoonist Jeff Kinney, the series delves into the life and adventures of a middle-schooler named Greg Heffley. Using an amalgamation of words and cartoons, Kinney introduces readers to a delightful, humorous, and sometimes cringe-worthy account of middle school life.
Jeff Kinney first started "Diary of a Wimpy Kid" as a comic on his website, Funbrain, in 2004. Its popularity quickly soared, leading to the decision to publish it as a book. The first book, titled "Diary of a Wimpy Kid", was published in 2007, and it became an immediate sensation.
Overview of the Series:
The story revolves around Greg Heffley, a middle-school student who navigates the challenges of school, family, and friends. The characters include:
Greg Heffley: The protagonist whose diary entries form the narrative.
Rodrick Heffley: Greg's mischievous older brother.
Manny Heffley: Greg's spoiled younger brother.
Rowley Jefferson: Greg's best friend, who is often naive but has a heart of gold.
Susan and Frank Heffley: Greg's well-meaning parents who often find themselves at odds with their son's antics.
The beauty of the "Diary of a Wimpy Kid" series is its relatability. Most children and even adults can see parts of their own school days reflected in Greg's misadventures. From handling bullies to dealing with embarrassing situations and navigating the complex world of friendship, Greg's experiences strike a chord with many.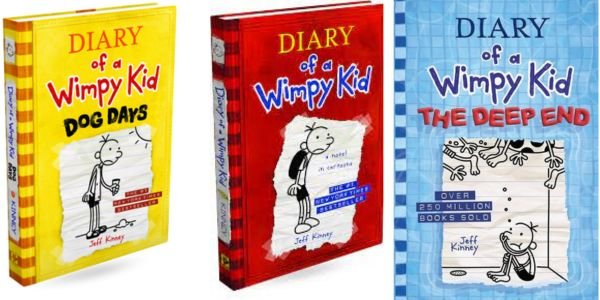 Style and Appeal:
What truly sets the series apart is its unique blend of traditional narrative and cartoon illustrations. The books are written in a first-person diary format, with Greg's own drawings interspersed throughout. This combination not only makes the books more engaging but also allows for a visual representation of Greg's world.
The humor is another cornerstone of the series. Kinney's wry observations on middle school life, combined with Greg's often misguided but well-intentioned efforts to fit in or stand out, result in laugh-out-loud moments.
Impact and Legacy:
Book Series: Since the release of the first book, the series has grown exponentially. there were 15 main series books, along with several additional related titles, including movie diaries and special editions.
Film Adaptations: The books' popularity led to several film adaptations. These movies further expanded the series' reach, introducing the quirky world of Greg Heffley to audiences worldwide.
Merchandise: Over the years, "Diary of a Wimpy Kid" has expanded beyond books and movies. From school supplies to games and apparel, the brand has found its way into various aspects of pop culture.
Cultural Impact: The series has prompted discussions about middle school challenges, friendships, and the trials and tribulations of growing up. Many educators and parents laud the series for its ability to get reluctant readers engaged with books.
"Diary of a Wimpy Kid" is more than just a series of children's books. It's a cultural phenomenon that has resonated with multiple generations. Jeff Kinney's blend of humor, authentic portrayals of middle-school life, and engaging illustrations ensure that the series will remain a beloved staple in children's literature for years to come.
Should a 13-year-old read Diary of a Wimpy Kid?
"Diary of a Wimpy Kid" is a series primarily aimed at middle-grade readers, roughly ages 8 to 12. However, its appeal extends both to younger readers and older ones. For a 13-year-old, there are several reasons why reading "Diary of a Wimpy Kid" might be suitable and enjoyable:
Relatability: The series revolves around the middle-school experiences of Greg Heffley, which many 13-year-olds can relate to. The challenges of school, friendships, family dynamics, and the awkwardness of pre-adolescence are universal themes.
Humor: Jeff Kinney's writing is humorously crafted. The combination of witty text and amusing illustrations makes the books entertaining, regardless of age.
Engaging Format: The diary format, interspersed with cartoon illustrations, makes the book more engaging and a quicker read. This format can be particularly appealing to reluctant readers.
Discussion Points: While the series is light-hearted, it does touch on issues like peer pressure, family relationships, and self-identity. These can be great discussion points for parents and kids.
Transition Reading: For 13-year-olds transitioning from middle grade to young adult literature, "Diary of a Wimpy Kid" can serve as a comfortable bridge. It provides the familiarity of middle-school settings while being a bit more mature than elementary-level books.
However, individual reading tastes vary. Some 13-year-olds might feel the series is too "young" for them or not challenging enough. It's essential to consider the individual reader's maturity level, reading preferences, and personal experiences.
Which Diary of a Wimpy Kid movie?
Diary of a Wimpy Kid (2010)
Directed by Thor Freudenthal.
Plot: The film covers events from the first book and introduces viewers to Greg Heffley, his family, and friends as he starts middle school. It encompasses Greg's navigation through the perils of middle school life.
Diary of a Wimpy Kid: Rodrick Rules (2011)
Directed by David Bowers.
Plot: This sequel delves into the sibling relationship between Greg and his older brother, Rodrick. The plot is based on the second book in the series.
Diary of a Wimpy Kid: Dog Days (2012)
Directed by David Bowers.
Plot: The movie combines elements from the third ("The Last Straw") and the fourth ("Dog Days") books. It focuses on Greg's summer vacation and the humorous events surrounding it.
Diary of a Wimpy Kid: The Long Haul (2017)
Directed by David Bowers.
Plot: Based on the ninth book of the same name, "The Long Haul" presents a Heffley family road trip that goes hilariously awry. Notably, this movie had an entirely new cast compared to the first three films.
Also, read Math Playground