Introduction:
Surveying plays a crucial role in various industries, providing accurate measurements and spatial data for a wide range of applications. It involves the measurement and mapping of physical features, determining property boundaries, and assessing land topography. The classification of surveying is an essential aspect that helps professionals select the appropriate techniques and methodologies for specific projects. 
Geodetic Surveying:
Geodetic surveying, also known as control surveying, is a high-precision technique used to determine the size, shape, and gravitational field of the Earth. It involves establishing control points with known coordinates and reference to a geodetic datum. Geodetic surveys are typically conducted over large areas and require specialized equipment and expertise. This type of surveying forms the foundation for various applications, including mapping, satellite positioning, and the establishment of national coordinate systems.
Topographic Surveying:
Topographic surveying focuses on mapping the natural and man-made features of a specific area. It includes the measurement of elevation, contours, vegetation, water bodies, structures, and other significant elements. Topographic surveys are essential for engineering, urban planning, and environmental assessments.
Advanced technologies like LiDAR (Light Detection and Ranging) and aerial photogrammetry have revolutionized topographic surveying, allowing for efficient data collection and the creation of highly accurate digital elevation models.
Construction Surveying:
Construction surveying also referred to as engineering surveying, is carried out during the construction phase of a project. It involves setting out precise measurements and marks to guide the construction process accurately. Construction surveyors play a vital role in ensuring that buildings, roads, bridges, and other infrastructure projects are constructed according to the design plans and meet the required standards. This type of surveying often involves the use of total stations, GPS receivers, and laser scanners.
Cadastral Surveying:
Cadastral surveying deals with the measurement and demarcation of land boundaries, property lines, and legal property descriptions. It is crucial for property ownership, land registration, and land administration systems. Cadastral surveys require adherence to local land laws, regulations, and survey standards. The data collected during cadastral surveys form the basis for property transactions, resolving land disputes, and urban planning.
Hydrographic Surveying:
Hydrographic surveying is conducted in bodies of water such as oceans, lakes, and rivers. It involves mapping the underwater terrain, and water depths, and identifying submerged structures, navigational hazards, and channels.
Hydrographic surveys are essential for maritime navigation, port construction, dredging operations, and coastal zone management. Modern techniques like multibeam sonar and side-scan sonar enable hydrographic surveyors to capture highly detailed bathymetric data.
Mining Surveying:
Mining surveying focuses on the measurement and mapping of mineral deposits, mine boundaries, and associated infrastructure. It plays a critical role in exploration, mine planning, and resource management. Mining surveyors use specialized techniques such as underground surveys, volumetric calculations, and monitoring to ensure safe and efficient mining operations. Accurate survey data aids in optimizing excavation plans, minimizing environmental impact, and ensuring worker safety.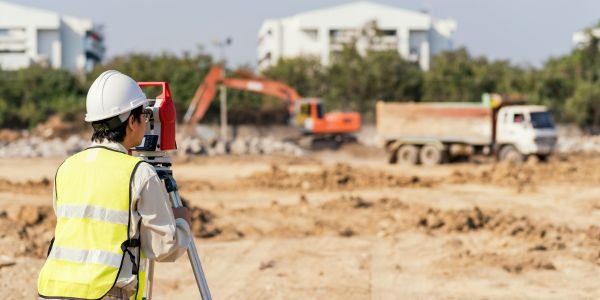 Classification of Surveying Based on Instruments Used
The classification of surveying based on the instruments used provides valuable insights into the specialized techniques employed for different surveying tasks.
Chain Surveying:
Chain surveying is one of the oldest methods of surveying and involves the use of a measuring chain or tape for linear measurements. In this technique, distances are measured by physically laying the chain along the ground and marking each measured length. Chain surveying is typically used for small-scale surveys and is effective for areas with simple geometries, such as property boundaries and small-scale mapping projects.
Compass Surveying:
Compass surveying relies on a compass instrument for determining angular measurements. The compass is used to measure angles between survey lines and reference points. This technique is primarily used for surveys where high precision is not required, such as preliminary surveys, reconnaissance surveys, and rough mapping.
Theodolite Surveying:
Theodolite surveying involves the use of a theodolite, a precise instrument used for measuring horizontal and vertical angles. The theodolite consists of a telescope mounted on a base with vertical and horizontal axes. It enables surveyors to accurately measure angles for precise positioning and alignment. Theodolite surveying is commonly employed for construction surveys, boundary surveys, and engineering projects.
Total Station Surveying:
Total station surveying combines the functionality of a theodolite with electronic distance measurement (EDM) capabilities. This advanced instrument allows surveyors to measure both angles and distances electronically. Total stations provide high accuracy and are equipped with features like automatic target tracking, data storage, and integration with computer-aided design (CAD) software.
Total station surveying is widely used in various applications, including topographic surveys, construction layouts, and deformation monitoring.
Global Positioning System (GPS) Surveying:
GPS surveying relies on a network of satellites to determine precise positions on the Earth's surface. GPS receivers receive signals from multiple satellites, enabling the calculation of accurate three-dimensional coordinates. GPS surveying offers high accuracy, efficiency, and versatility in a wide range of surveying tasks. It is commonly used for geodetic surveys, large-scale mapping projects, and navigation applications.
Laser Scanning Surveying:
Laser scanning, also known as LiDAR (Light Detection and Ranging), is a remote sensing technology used for rapid data acquisition. It involves emitting laser pulses and measuring the time taken for the pulses to return after reflecting off objects.
Laser scanners capture millions of data points, creating detailed three-dimensional representations of the surveyed area. Laser scanning surveying is widely used for topographic surveys, infrastructure monitoring, and 3D modeling.
Also, read the structure and function of ecosystem